How to use Checkout with Multiple Addresses
You can easily send gifts to multiple different addresses using one card in a single checkout. Quick, easy and there's no extra charge.
Add 2 or more items to your basket. When you then select "View cart & checkout" you'll see the "Ship to Multiple Addresses" optio


Select the option and then the Multiple Address Checkout will open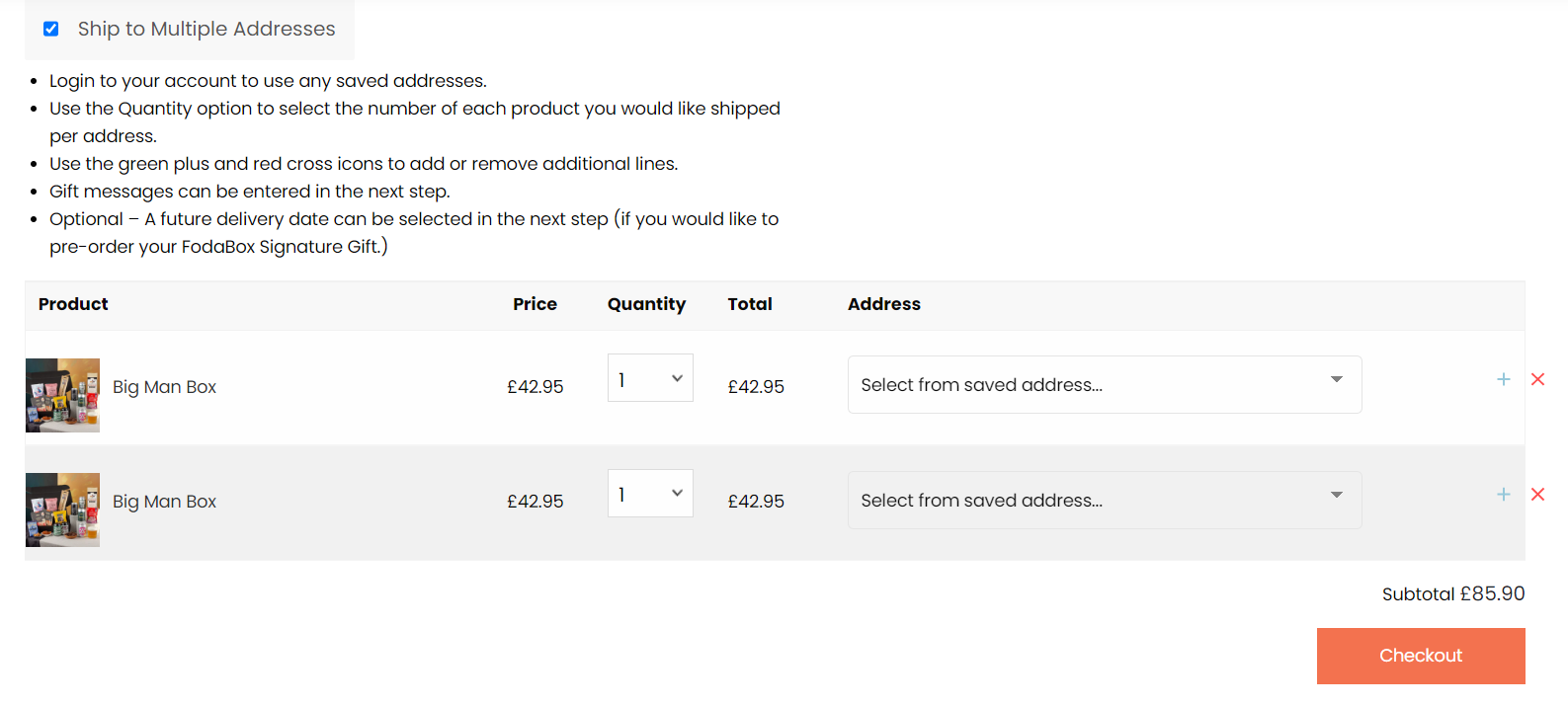 3. Now you simply need to enter the desired shipping addresses.

4. PRO TIP - if you are shipping to a large number of addresses, we'd advise creating a Customer Account and adding the addresses to your Address Book before starting your order - this will make it easy for you to select.

5. Select "Checkout". On the next page, you'll be able to enter a Gift Message should you wish. If you have selected items from our Signature Collection, you'll also be able to select a Future Delivery Date if you would like your products to arrive on a specific date.

6. Select "Continue to payment" and you will then complete the order as normal. You will only need to enter your card details once.
Related Articles

I have a voucher code - how do I use it?

If you have a Gift Card or Discount Code, you can redeem this during your Checkout. On Shipping information page, you will see a summary of your order on the right-hand side, and a box with the heading: "Gift card or discount code". Enter the code ...

Where's my order?

Each component of your order will have an estimated delivery timeframe which is on the product page. Once your order is placed you'll receive an order confirmation email containing the order details. Once your order has been carefully packed and ...

What are your shipping costs?

Standard Mainland UK Delivery is FREE on all orders over £75 (excluding shipping) with a fixed charge of £4.95 per order (or delivery address if you're using the multi-address checkout feature). Shipping surcharges may still apply over the £75 ...

What is the best way to contact you?

If your question hasn't been answered here, please use our Contact Form.

Can I add a gift message?

Yes - when you select "View Cart & Checkout" you'll then be taken to your Cart page where you can enter a gift message. If you've forgotten to add a gift message to your order, please get in contact as soon as possible by filling out the Contact ...