Do you deliver everywhere in the UK?
Yes, we ship all-over the UK! However, there are some items which we cannot ship to Northern Ireland and some other offshore Islands.
We have a handy "Delivery Zones" filter on our collections pages that you can use to only show products available for delivery to your desired location.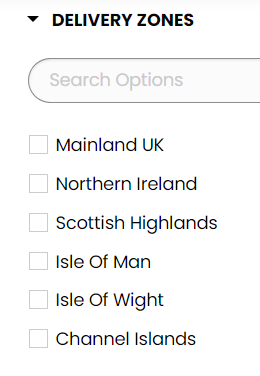 Related Articles

Do you deliver internationally?

International customers can place orders for delivery in the UK. At present, we are unable to ship individual orders internationally. If you are a Business looking to place a bulk order for delivery internationally we may be able to help. Please use ...

Is your produce only from the UK?

While FodaBox is based in the UK, we support artisan producers who source their produce from all over the world.

Where are you based?

FodaBox is based in Welwyn Garden City, UK.

What are your shipping costs?

Standard Mainland UK Delivery is FREE on all orders over £75 (excluding shipping) with a fixed charge of £4.95 per order (or delivery address if you're using the multi-address checkout feature). Shipping surcharges may still apply over the £75 ...

What if I'm not home for my delivery?

This will depend on the courier used to ship your order. Most gifts or items sold by FodaBox will be shipped via Yodel. They send recipients a text message on the morning of delivery where you can then change the delivery day or give instructions to ...